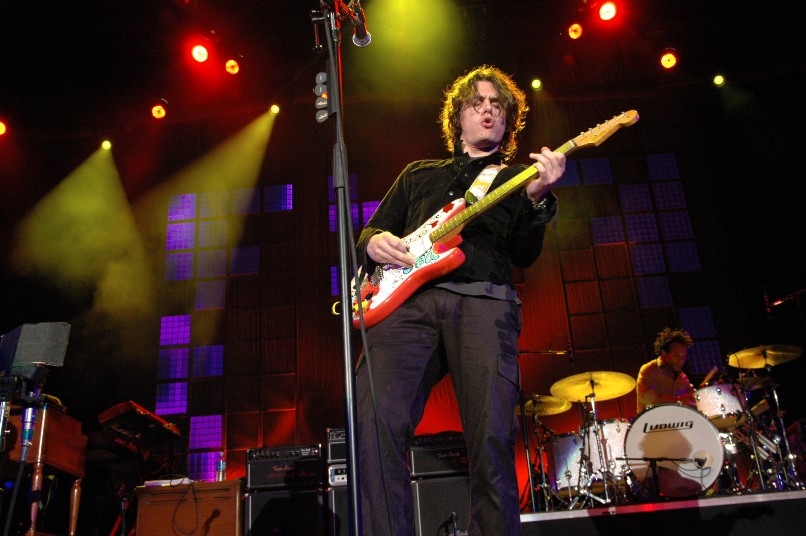 We went to see John Mayer last month. It was a wicked concert. I wanted to practice my concert photography but they wouldn't let me take my Digi SLR into Scotiabank place(I had even taken off the big scary zoom lens in preparation). So after a short trip back to the truck we settled in to watch the show. Kathleen Edwards opened up and she was great BUT she kept bitching to the audience that they weren't lively enough. In my opinion, if an artist has to do that, maybe they should spend more time concentrating on being more exciting and less time berating the audience. John Mayer didn't have to say a thing and the place exploded when he came on (hehehehehe, ok, not the same market share, I know).
I first saw Mayer on the 2000 or 2001 Grammies when he played and won for his song "Your body is a wonderland". I was impressed with his funky acoustic chops and what he was able to do with his limited vocal range. Then I saw him on ACL and was surprised at his bluesiness! I was even more surprised when friggin Buddy Guy came on and Mayer played right up to his level! Buddy Guy!!!!! Mayer is a blues man at heart...
I love his stage presence and how he moves with his guitar. It's very natural and it's obvious he loves his job. He was even apologetic about the price of concert tix, etc. The only thing that bugs me about him is some of his perhaps pseudo-orgasmic guitar faces he sometimes pulls..
Great songwriter thought. I found out soon after the Grammies that he was going out with
Jennifer Love Hewwitt
. He's since broken up with her.. (check that! HE broke up with HER). The bastard!
And he has a fantastic collection of vintage strats. If you've never given him a listen, check his music out sometime. His John Mayer trio stuff is great too!