I buy a lot of stuff on the net through Paypal. It's the way to go (sure I know they lost some customer credit card info a few years back
, but hey, no one is perfect!). I ordered something from BC today. It went through and it said "Thank you very much, you order number is 14.".

Fourteen? Did I read that ri
ght? 14?.... Not a lot of Paypal customers buying semi-realistic Folkmantis animal puppets from British Columbia I guess. Now I'm suddenly worried. I guess I'll see in 1 to 1.5 weeks if my package arrives. Gee, don't they know to pad your order numbers and start in the thousands so you look like you know what you're doing? I do that all the time at work with my data entry apps!..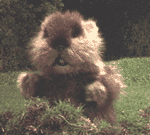 Why the realistic stuffed animals you ask? Why, Trailerpark Geocachers meet Bigfoot II is in the scripting and props phase! Look out!

****UPDATE****

Ok, I'm order 14 , but you know what? They have so few people ordering via paypal that there must be a dedicated IT staff just sitting around waiting for people like me to order because I just got a Canada Epost email that my package has shipped about 20 minutes after I ordered it online. That is way too efficient. Did I order from Germany by mistake? Very impressive!


http://www.bcpuppets.ca/
For all your puppet needs (well, maybe not for all, depending on what you're into..)